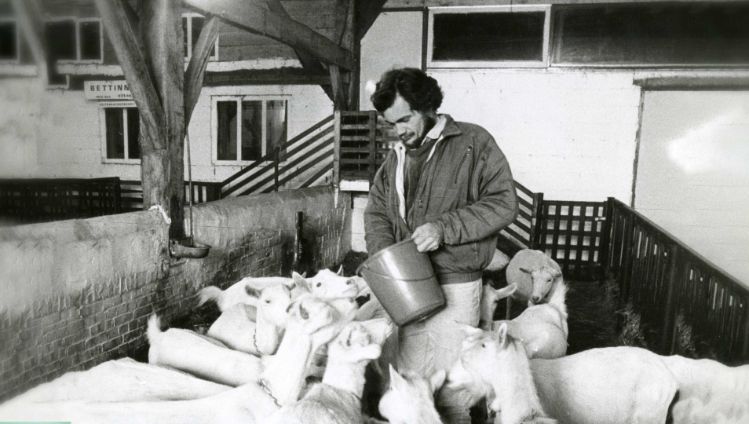 1982
Two goats
Johan Ewijk, fodder extension agent, sees a 'For rent' sign at a farm on Bankenstraat in Etten-Leur. His peasant heart decides: move. With limited funds, he cannot afford cows, but two goats are a good start. And so it begins.
1986
The big breakthrough
In 1986, Johan is asked by a Belgian goat cheese manufacturer to supply 100,000 kilos of goat cheese, which requires 700,000 litres of milk. Johan agrees and arranges farmers to meet the demand. He even receives an interest-free loan of 5,000 guilders for a pasteuriser, the essential machine to produce more goat cheese.
1987 - 1991
Bettine on the shelf
Bettine welcomed Uniekaas as a customer in 1987, which was the beginning of a long-term partnership.
In 1990, Bettine breaks through in Dutch supermarkets thanks to its cooperation with Albert Heijn.
1992
Fire on the farm
A blazing fire destroys the entire farm. Johan acts immediately and arranges for 2 competitors to collect his milk to make cheese. For a year, Johan thus ensured that he could continue to meet demand and diligently built a new, improved cheese factory.
2000
Soft goat cheese
Although cow cheese is still by far the favourite, goat cheese is becoming increasingly popular in the Netherlands. Johan decides to focus on producing soft goat cheese, rather than hard goat cheese.
2006
Best cheese in the world
Bettine Grand Cru has been voted the best goat cheese in the world at the Nantwich International Cheese Show in the UK. The expert jury chose this cheese as the winner out of 2140 entries.
Sybren, Johan's son, returns as commercial director after experience elsewhere.
2017
New office building
Since 2017, a new office building has opened on the Nieuwe Donk in Etten-Leur. Besides office space, most of the production is also processed and made here.
Nowadays
Our team
With hard work, thoughtful choices and a touch of luck, Bettine has come a long way since starting out with just two goats. With boldness and determination, we deliberately chose our own course. Still Sybren tries to keep the family feeling, even though the company now employs as many as 140 people. Our international growth rests on the gently mild flavour and quality of our cheese.